TOP-NOTCH POWER BI CONSULTING SERVICES IN ORANGE COUNTY
Transform Your Data into Powerful Insights with Expert Power BI Consulting
Gain valuable insights, make informed decisions, and drive growth with our tailored solutions. Take your business to new heights – get in touch with us today for a free consultation!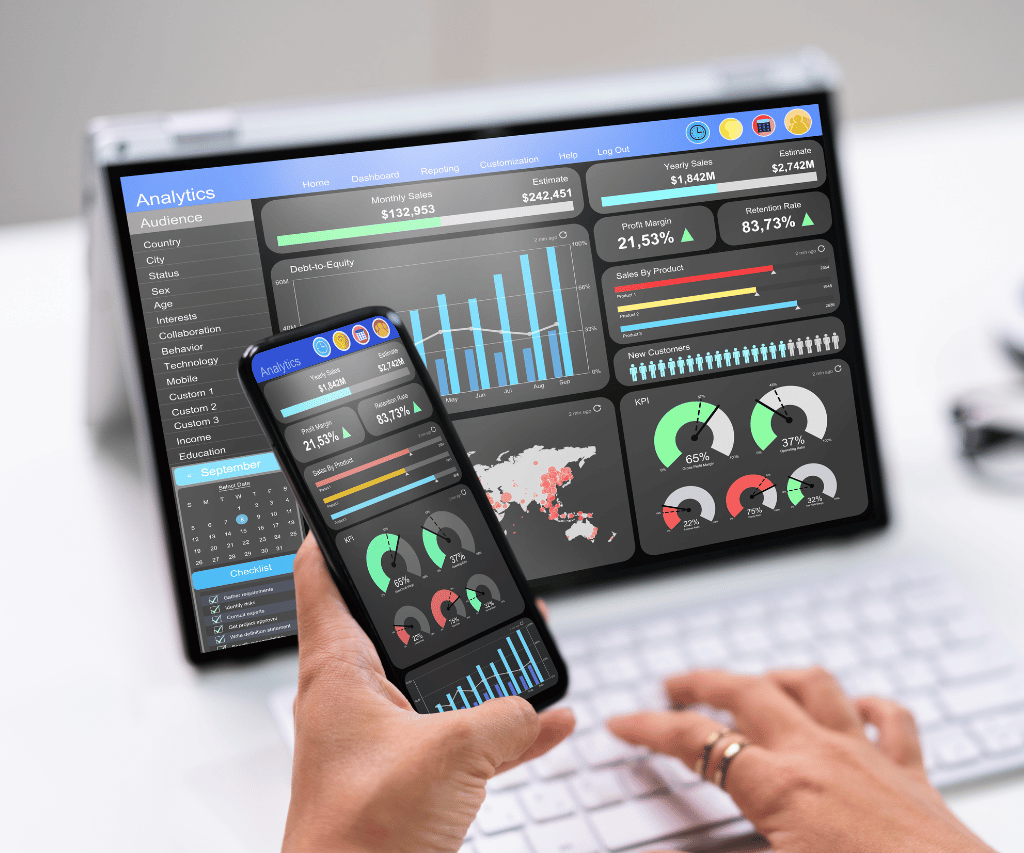 what is power bi?
Power BI is a dynamic business analytics tool by Microsoft, that empowers organizations to visualize and share insights from their data. With Power BI, raw data becomes vibrant, intuitive, and actionable, aiding informed decision-making.
Power BI offers significant benefits to your organization. With its powerful data visualization capabilities, you can gain valuable insights and make data-driven decisions. The interactive dashboards and reports enable you to easily monitor key metrics and track performance in real time. Additionally, the seamless integration with various data sources allows you to consolidate and analyze data from multiple platforms, empowering you to optimize operations and drive business growth.
At Lightray Solutions, our team of seasoned consultants excels in harnessing Power BI's capabilities and customizing solutions tailored to your business needs. Through our powerful power BI consulting services, we can transform your data into compelling visual narratives, enabling you to extract invaluable insights, uncover trends, and make data-driven decisions swiftly.
Problems Power BI Can Solve and How It Empowers Businesses
Power BI is a game-changer for businesses in various industries, solving a variety of problems and empowering organizations to make data-driven decisions.
Data Accessibility Problem
Power BI allows businesses to combine data from multiple sources into one platform. This makes accessing and interacting with data simpler and more convenient.

Problem of Data Silos
Power BI connects disparate data sources, eliminating data silos. It provides a consolidated view of data, making it easier for businesses to get a clear picture and make data-driven decisions.


Predictive Analytics Challenge
Power BI's AI-powered predictive analytics help businesses anticipate future trends and behaviors, giving businesses a competitive edge by enabling proactive decision-making.

Issue of Real-time Reporting
Power BI provides real-time updates and visual analytics, helping businesses stay informed about their operations and make timely decisions.


Revenue and Cost Tracking Issues
Power BI helps businesses monitor their revenue streams and costs effectively. It provides tools required to analyze financial data, identify trends, and plan future business strategies.


Data Visualization Challenge
Power BI solves the problem of representing complex data in an understandable format with its wide range of data visualization tools. It allows businesses to convey trends, patterns, and insights to stakeholders.

Inefficiencies in Collaboration and Sharing
Power BI provides features to share reports and dashboards, making it easier for teams to collaborate and share insights. This encourages informed decision-making across the organization.


Data Analysis Complexity
Power BI simplifies complex data analysis tasks with its user-friendly dashboard and reporting features. It reduces the need for specialized technical skills, allowing businesses to efficiently analyze and interpret data.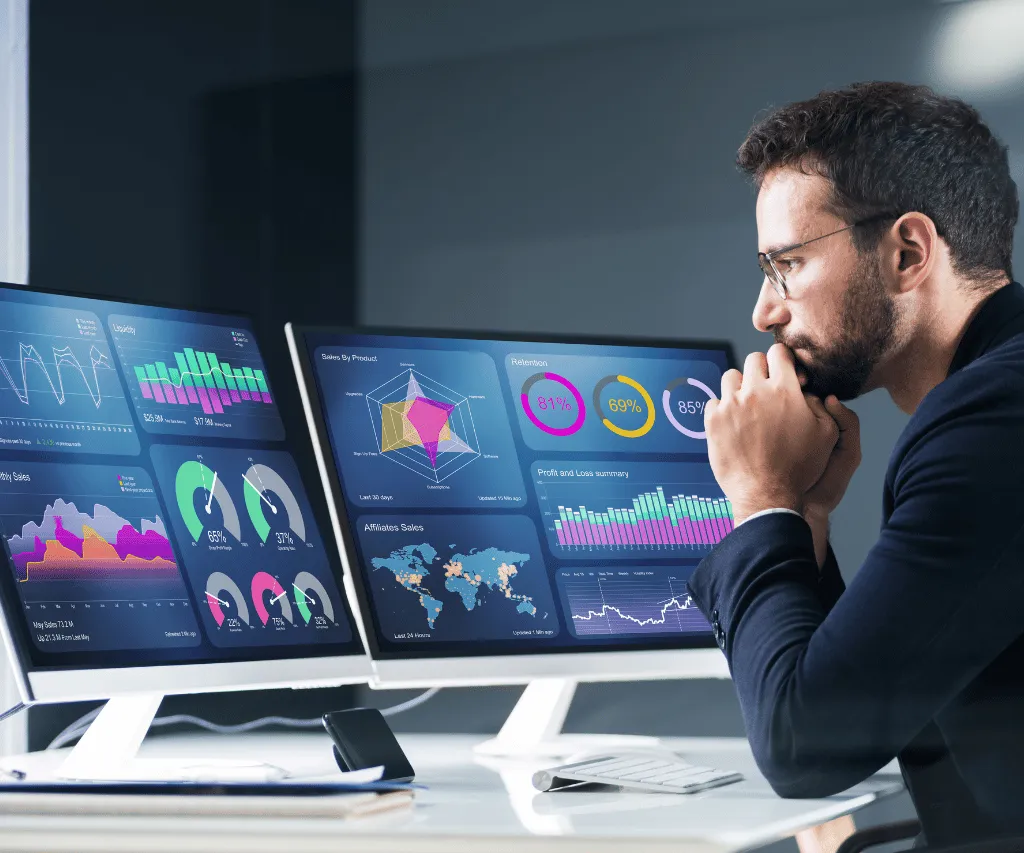 Visualizations Through Interactive Dashboards
Compelling visualizations through interactive dashboards is a game-changer for business owners and entrepreneurs. Gone are the days of sifting through complex spreadsheets and static charts. With interactive dashboards, you can effortlessly dive into your data, uncover valuable insights, and make informed decisions in real time.
These visually captivating displays not only enhance data comprehension but also facilitate storytelling, allowing you to effortlessly communicate your business's performance and trends. Say goodbye to dull presentations and hello to dynamic, engaging visualizations that will captivate your audience and drive your business forward.
seamless data integration with power bi
Seamless data integration with Power BI empowers business owners and entrepreneurs to unlock the full potential of their data. With Power BI's intuitive interface and powerful analytics capabilities, you can easily connect and consolidate data from various sources, such as Excel, databases, and cloud services. This streamlined integration eliminates the hassle of manual data entry and allows you to gain valuable insights in real-time.
By harnessing the power of Power BI, you can make informed decisions, identify trends, and drive business growth with confidence. Don't let your data remain fragmented – experience the power of seamless integration with Power BI today.
Accelerate your business growth with Power BI Consulting
Supercharge your analytics capabilities and gain a competitive edge in your industry.
our power bi consulting services
Our Power BI consulting services empower your business with advanced data analytics and visualizations, enabling you to make informed decisions with confidence. Our team of experts will guide you through the entire process, from data integration to creating customized reports and dashboards. With our expertise, you can unlock the full potential of Power BI and drive business growth through actionable insights. Stay ahead of the competition and maximize your business's success with our Power BI consulting services.
industries that need power bi
The use of Power BI is essential for various industries in today's data-driven business landscape.

Retail Industry
Power BI can help retailers analyze sales data, track inventory, and understand consumer behavior, ultimately leading to improved sales strategies and higher profits.

Healthcare
Power BI is essential to track patient data, streamline healthcare operations, provide predictive analytics for disease outbreaks, and improve patient care services.

Manufacturing
With Power BI, manufacturers can optimize production processes, manage supply chain operations, ensure quality control, and make data-driven predictions to meet demand on time.

Financial Services
Power BI helps financial institutions analyze market patterns, manage risks, monitor transaction processes, and provide personalized services to their clients.



Education Industry
Educational institutions can use Power BI to monitor student performance, optimize academic programs, manage institutional operations, and drive better learning outcomes.

Hospitality Industry
Power BI is vital for hospitality industry for managing bookings, improving guest services, optimizing room prices, and understanding customer preferences.



Real Estate Sector
Through data analysis and predictive insights, Power BI helps realtors understand market trends, evaluate property values, manage listings and streamline operations.


Transportation & Logistics
With Power BI, businesses can optimize routes, track vehicles, manage logistics operations, and improve delivery times.



Information Technology
Power BI supports Information Technology (IT) companies in managing projects, tracking bugs, evaluating employee performance, and predicting market trends.
why hire power bi consultants from Lightray Solutions?
Lightray Solutions is your top choice when it comes to hiring a Power BI consultant. With our expertise and proven track record, they bring a wealth of knowledge and experience to the table. Our consultants are not only skilled in Power BI but also have a deep understanding of business analytics and data visualization. We know how to transform raw data into meaningful insights that can drive your business forward.
Lightray Solutions takes a personalized approach, tailoring our Power BI consulting services to meet your specific business needs. By partnering with us, you can expect exceptional customer service, timely project delivery, and a strong return on your investment. Don't miss out on the opportunity to leverage the power of Power BI with Lightray Solutions as your trusted consultant.
Benefits of partnering with us:
harness the power of power bi
Increase your business's efficiency, productivity & profitability with power bi
Transform your data into actionable insights and make informed decisions that drive growth and success. Our team of skilled consultants will guide you every step of the way, helping you harness the power of Power BI to optimize your operations, enhance your reporting capabilities, and uncover valuable business intelligence.