What is a Facebook group and how does it work?
One of the Internet's most powerful marketing tools is building an audience with strategies to market in Facebook groups. An added benefit is your group will continue to grow organically, as Facebook will continually help add more people to your network by suggesting your group to users. When your audience becomes active, they will refer your group to friends and family furthering your organic reach. There is no greater reward than to see customers referring others to your brand.
Facebook groups are similar to other social media sites in that they all allow you to connect with your audience and give them opportunities to become engaged in what you have to say. To market in facebook groups is different, though, because they are designed to help you grow your business while increasing your engagement with your audience. If you haven't taken advantage of groups in the past, now is the time! Take the following tips to help you use this powerful online marketing tool to grow your business faster!
"Facebook groups provide ample opportunity to engage directly with your audience."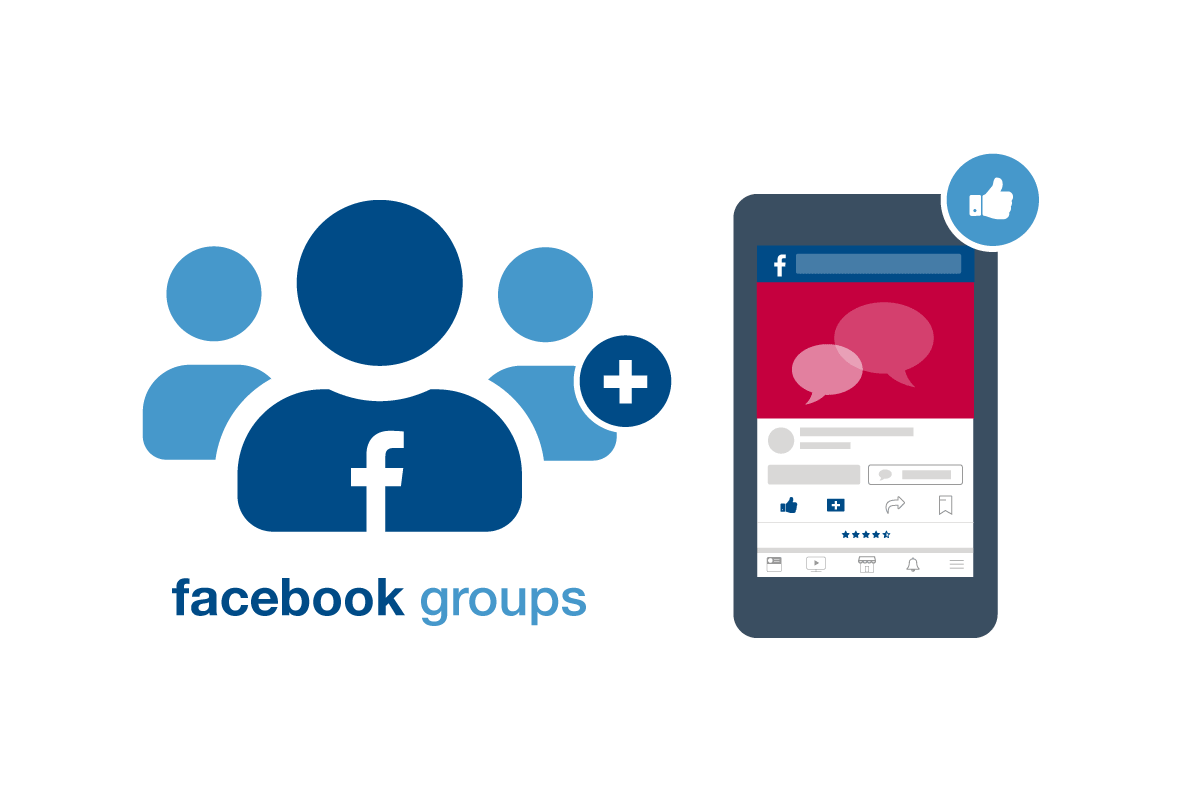 The following are a few strategies to market in facebook groups.
Dive Deeper Into Your Market Segment
One of the great things about Facebook groups is that it gives you the chance to dive deeper into your market segment. With the groups' search, you can find out who is in your target market, view user activity, and learn their interests. This is an effective way to tap into your audience. By looking at your audience and how they engage with each other, you can then plan promotions to engage these new audiences.
Host Events and Referral Promotions
One great thing about Facebook groups is hosting an event or running contests and getting your audience involved. Encourage your existing customers to join your community. On your event's page, encourage new customers to join up. Encourage customers to write posts and share stories on your sales page. The more your audience engages with your content, the more likely they are to be interested in what you have to say and increase the likelihood of buying. This is also a great way to increase engagement among potential customers.
Use Social Searches
Using a social search within your Facebook group results can drive more traffic to your website. People are searching the web more often. Therefore, it is easier to grow your audience by driving relevant traffic. When people search for a term, they are more likely to see businesses related to what they are looking for. So, adding relevant keywords to your content and promoting your business through the various social search options you have on your group's page will help grow your organic traffic quickly.
Promote Your Brand As Part Of A Facebook Group
One more excellent marketing tactic to use with your Facebook group is to promote your brand as part of your group's content. Facebook groups offer the opportunity to get your existing audience to react to promotions, events, sales, and just about any other thing you might be able to get your hands on.
Use Twitter Cards
Twitter cards are another great way to grow your audience online. In particular, the growth of your target audience is significant. It would be best if you reached as many people as possible with your tweets. So, add a fantastic flair to your Twitter cards by linking your tweets to your group's page or promoting your tweets through other social media outlets. Your followers on Twitter are as crucial as your direct target audience, so this strategy should work well for both marketing efforts.
Final Words,
It is no secret that word-of-mouth marketing is and always will be a powerful ally in your marketing arsenal. Your Facebook group will function as a tool to coordinate your word-of-mouth promotions. Similar to most strategies, the main goal is to influence organic engagement and participation. And when it comes to the price tag of free, it is hard to beat.
Facebook groups can be automated extensively. Sending invitations and posting content can easily be scheduled and executed with tools. If you are wondering how to start, reach out to us today! Let's begin to market in Facebook groups.
Edward Pinela III, MBA, is Founder and CEO at Lightray Solutions, a global service agency providing digital marketing, graphic design, websites, and mobile app development services.
Questions on how to market in Facebook groups? What would you have added to this article? Share below in the comments — I'd love to hear them!
If this blog post provided value, please share by clicking the social media platforms below!