Skyrocket Your Local Rankings with Lightray's SEO Reputation Management
Boost your business's online visibility, attract more customers, and dominate the local search results with Lightray's SEO Reputation Management Google Tools.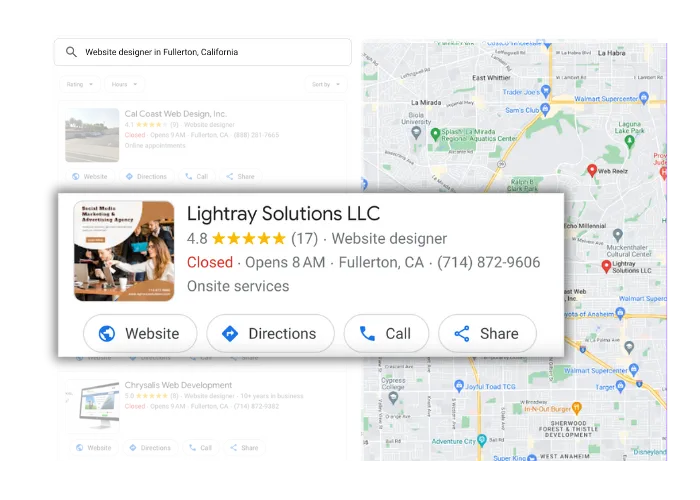 Discover the Power of Listings
Optimize Your Business Listing
Improve your Google My Business profile with our services. We ensure your listing is complete, accurate, and primed for local searches.
Boost your website traffic
Increase your site's visitor count courtesy of our targeted strategies on Google My Business. We drive organic traffic straight to your door.
Accelerate your pipeline
Supercharge your sales journey with Google My Business. We help turn customer interactions into promising leads and real revenue boosts.
Improve Local Rankings
Boost your business's visibility with our Google Business Page SEO reputation management services, inspire an avalanche of positive reviews, and handle customer feedback like a pro! We leverage Google Business Profile tools to skyrocket your local stature and fuel growth.
Harness the power of Google My Business today and propel your local reputation to new heights with our SEO and reputation management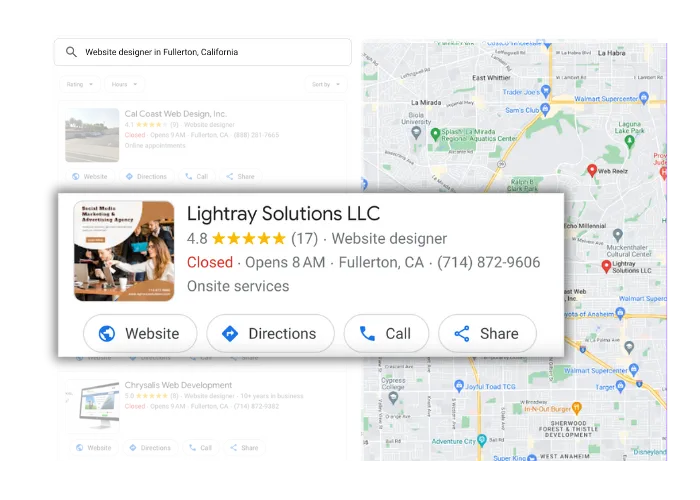 GMB Page and Profile Creation or Account Opening
As the world's most powerful search engine, Google can connect you to millions of customers daily. But how do you stand out in the crowd? We provide the best online reputation management strategies.
That's where our SEO reputation management services come in. Our team of digital marketing experts will create a professional Google My Business Profile for your business,, ensuring the required information is accurate and complete. We'll ensure your business stands out in Google searches, maps, and reviews with well-optimized keywords.
Expert Optimization
Take your online presence to the next level with our expert Google My Business SEO reputation management strategies. Let us maximize your business profile's potential, ensuring your brand stands out in local search results. From leveraging keywords to managing reviews, we fine-tune every aspect of your profile.
Experience increased visibility, improved customer engagement, and a strengthened reputation with our expert optimization services.
Review Collection Automation
Capture the attention of your customers and skyrocket your online reputation with our Google My Business review collection automation. Imagine effortlessly collecting positive reviews from satisfied customers, enhancing your credibility, and increasing your visibility in the digital world. With our cutting-edge automation tools, you can streamline the process of requesting and managing reviews, saving you time and energy.
Let us do the heavy lifting for you, ensuring a constant flow of positive feedback that will attract new customers and set you apart from the competition.
Hassle-Free Google My Business Profile Management
Maintaining an optimal online presence has never been easier. Our comprehensive Google My Business Profile Management services take the burden off your shoulders, ensuring your business shines in local search results.
We manage everything, from updating your business information and responding to reviews to optimizing your profile and monitoring its performance. Invest in our services and sit back as we elevate your digital footprint, attract more customers, and drive higher sales.
We Reply To Reviews For You
As part of our Google My Business SEO reputation management package, we will optimize your Google My Business profile, ensuring maximum visibility and reach for your business. But that's not all! We go the extra mile by personally replying to all the reviews on your Google My Business profile.
We will craft thoughtful and engaging responses, showcasing your dedication to customer satisfaction. Don't miss out on the opportunity to impress potential customers and build a stellar online reputation.
let us be your partner in your business's online success
Dominate Your Local Market and Boost Your Online Reputation
Supercharge local rankings with tailored Google My Business SEO Reputation Management. Boost your online presence, gather customer feedback, and outshine competitors. Kickstart your local business success now with a well-optimized Google My Business profile!